Hey guys,
Up for sale is my beloved 6.05 Savage Swordfish 2003 Model.
For the people interested this boat is fully decked out not only for bay fishing buy serious offshore use.
Boat Includes all the goodies listed:
*140HP Mercury Saltwater Series (around 140hours)
*Dunbier Full Drive On Roller,Duel Axel and Braked Trailer(GOOD CONDITION, New Rollers, LED Lights, Brand new Hubs+Pads,and Winch)
*220L Stainless Steel under floor Fuel tank
*Rod holders at the back of the boat and side
*Standing Rod holders for traveling
*Live Bait Tank
*Stainless Steel Ladder for swimmers/access
*Near Brand new Canopy and Clears
*2 Smallish beds up the front on each side with storage compartments underneath
*Marine Carpet all round
*Lowrance LCX 112 Depth Sounder/Gps (costed $4500)
*Storage on both sides on the boat right along the gunnels)
*Lights All Round (works well for night fishing)
*Full Safety Gear for Offshore (has something stupid like 10 life jackets)
*Brand New Epirb (less than month old)
*Sides of the boat were spray painted only 6 months ago
*Burley Pot (nylon, brand new)
*Swivel Drivers and Passengers Seats(perfect condition and elevated with storage underneath)
*Side Compartments for Knives/sinkers ect)
*Rear Bench Seats (fit at the rear of the boat, can be de-attached)
*Duel Battery System (brand new system and batteries)
*Custom Bait board at the back(welded aluminum with nylon cutting board)
*70m of Rope for anchor
*50m Spare Rope
*Reef and 2 Sand anchors
*Every bolt and nut has been replaced on boat with new stainless steel
*Passenger Hand Rail
*UHF Marine Radio
*Fully Re-Wired all the electrics about 4 months ago
*Marlin Board at rear of boat for easy access ect
*Very wide and high Gunnels
*Center Windshield opens up and and gives u access to the front of the boat
*Anchor and Rope Compartment at the front of boat
*Brand new Stainless steel Anchor/Rope Guide
*Brand New Spare Wheel for trailer
*Brand New Bildge Pump
*Stainless Steel Bow Rail
Guys this will be sadly Missed.
I have practically replaced everything on this boat with the top of the range items off the shelf. I know there are still things that i haven't mentioned that i just cant think of right now, so i may be adding to the post.
Just to give you a run down, i have owned this for 3 years now and have loved every bit of it. Just recently i took her down to Portland and ended up getting "stuck" in some pretty average weather. Launched from Portland and headed to Port mac, then it turned nasty but the boat beat through it and i was really amazed with its performance(Mathew Hunt commented me about it back at the ramp). Just cut through the waves like a good solid alloy should and sits in the water very still (Very solid and heavy Hull).
Has caught plenty of snapper in the bays and Sharks offshore, this is really for the keen fishermen out there that don't have to spend another cent to have a great solid offshore/Bay rig.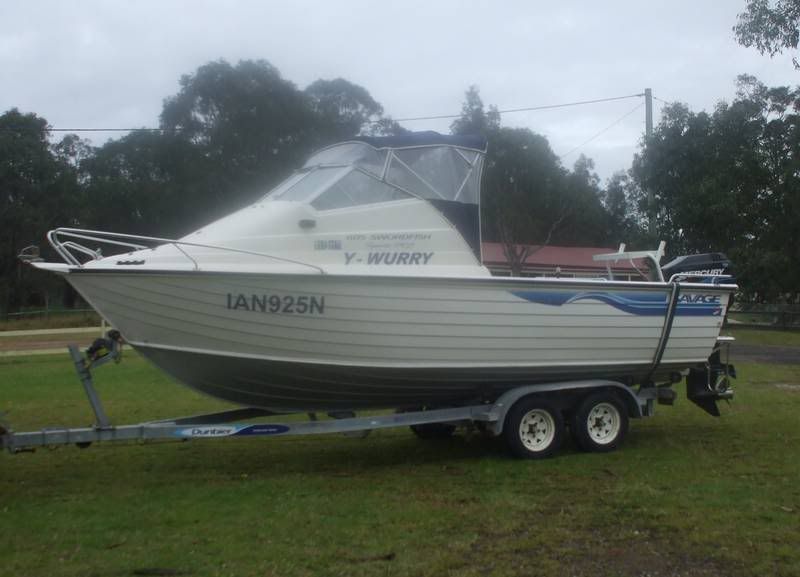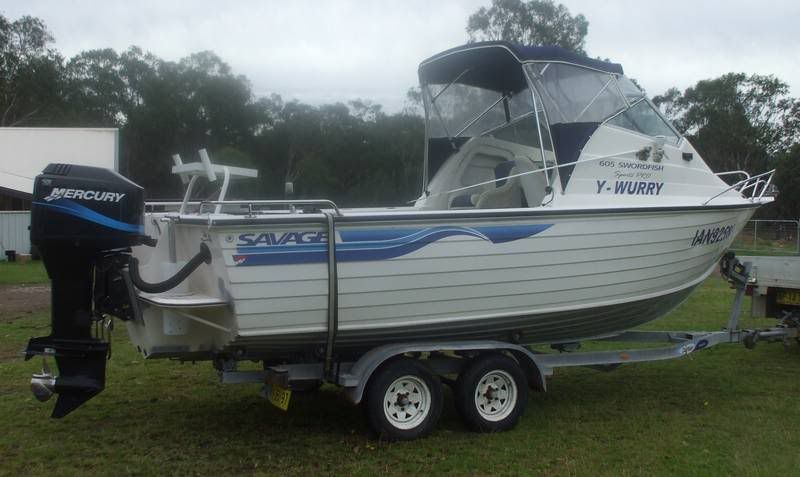 Asking Price: $35,000ONO
Call: 0421 485 627
or
0417 551 291
Thanks for reading guys!